Precision Massage Therapy
With 20+ years of experience with therapeutic as well as accident and injury restoration work, Jody provides the best and most effective massage in Parker Colorado!
Precision Deep Tissue
Precision Deep Tissue Massage is a perfect balance of strength and relaxation. This style of massage utilizes focused techniques that slowly and comfortably reach into the tight muscles and connective tissue. You will experience my style of Deep Tissue as a muscle specific treatment that eliminates chronic pain through focused manipulation and joint mobilizing.
Relaxation massage
Relaxation massage is essentially the same as a gentle Swedish massage that uses smooth, gliding strokes. The primary purpose will be to help you relax, and the massage therapist will probably move at a slower pace and use light pressure.
During a relaxation massage there is less emphasis on working-out serious adhesion or knots in the muscle tissue and the therapist won't push your pain limits in order to get the muscle to release. Sometimes people even fall asleep during a relaxation massage. You have to option to choose from traditional massage or hot stone therapy. Hot stone & shell treatments can be great for unlocking tight or painful areas – especially for your back.
There are still substantial health benefits to a relaxation massage, including calming the nervous system, promoting a sense of well-being, improving blood circulation and stimulating the body's lymphatic system, which carries away waste products.

ADD ON: By request, you can add extract oil to your treatment to enhance relaxation and soothing. Extract oil is helpful for joint pain, sore muscles, aches and pains. Including the oil with your service is an excellent option with anti-inflammatory benefits.
Percussion Massage Therapy

What is Percussive Massage?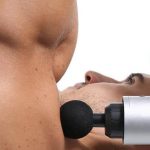 Percussive massage is an innovative new style of treatment for soft tissue pain and issues.  Percussive massage accelerates the recovery of tissues by providing concentrated, rapid, short-duration pulses deep into the tissues of the body.  With the increased blood flow to the area causing pain, those receiving treatment can benefit from relief and increased range of motion and ability.  Percussive massage also provides a gentle stretch to the connective tissues and muscles improving quality of life.
What are the Benefits of Percussion Treatment?
Percussive massage and muscle stimulation are beneficial from a variety of standpoints:
Increase range of motion by relieving stiff joints
Increased lymphatic and venous circulation
Relaxing of thickened fascia and connective tissue
Breaking down of adhesions and internal scar tissue, caused by injuries or surgery
Elongating stiff or restricted muscle fiber